6 Free Goodies at DeeProm
What is your idea of a cozy boutique hotel?
At DeeProm Hotel, we proudly present touches of Thainess in every little detail. The amenities at DeeProm are unlike any that you will find at other hotels. More than just freebies for you to take home, our amenities are an invitation for you to experience DeeProm's philosophy of "Good to the Body – Good to the Heart – Good to Society" under the concept of "Amenities 6".
DeeProm is proud to introduce Romrampei, a product line offering shower gels, shampoos, and lotion made from 100% natural ingredients. All the products are environmentally friendly and free from harmful substances such as silicone, SLS, SLES, and preservatives. Using only natural scents extracted from lemongrass, kaffir lime and lavender, Romrampei will help you feel refreshed and relaxed, as you gently cleanse your body.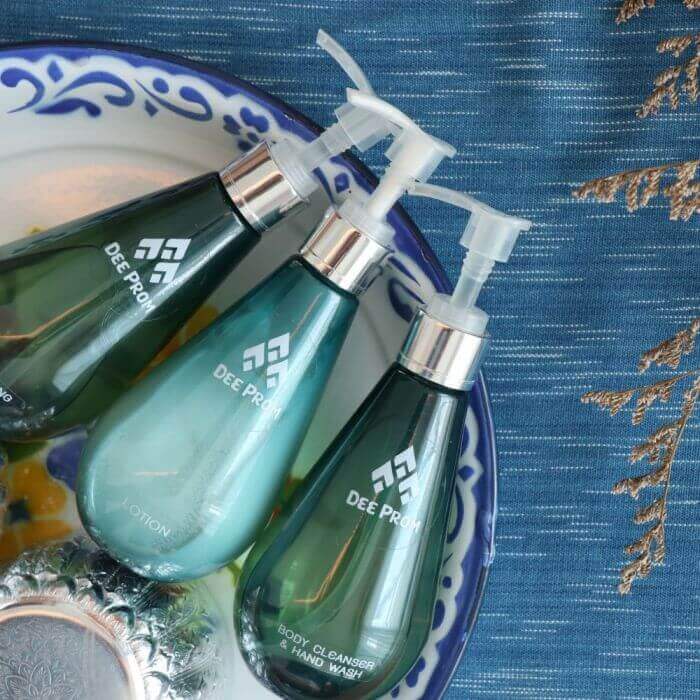 2. Indigo-dyed Cross Body Bags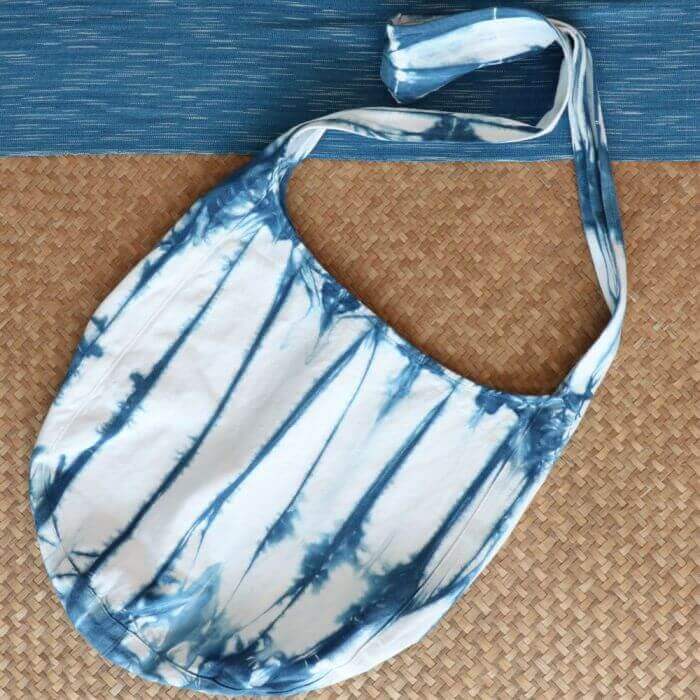 Step into your room to find on your bed, a tote bag made from indigo-dyed fabric, which is native to Sakon Nakhon province. These bags are designed for maximum storage capacity, so be sure to grab one before you step outside, so you can enjoy shopping and help to save the environment by reducing usage of plastic bags. The tote bag is an example of our efforts to support local wisdom and the livelihoods of villagers in various regions of Thailand, by sourcing local crafts from all over Thailand. We hope your stay with us will inspire you to adopt reusable tote bags as part of your daily fashion items, as we join forces to fight against the use of plastic!
3. Stylish Indigo Bath Robes
Wave goodbye to universal white bath robes, because at DeeProm we don't follow the ordinary. Consistent with DeeProm's blue and white theme color, our bath robes are made from indigo-dyed fabric from Sakon Nakhon, a northeastern province which is famed for being Thailand's indigo capital. Only fabrics that are made with natural and organic indigo, using sustainable methods, are selected by DeeProm. Not only are these robes stylish and comfortable, but they also protect you from the sun, as indigo is known to have anti-UV properties. So slip into the bath robes, and snap some photos so that you can take home some memories of your experience at DeeProm!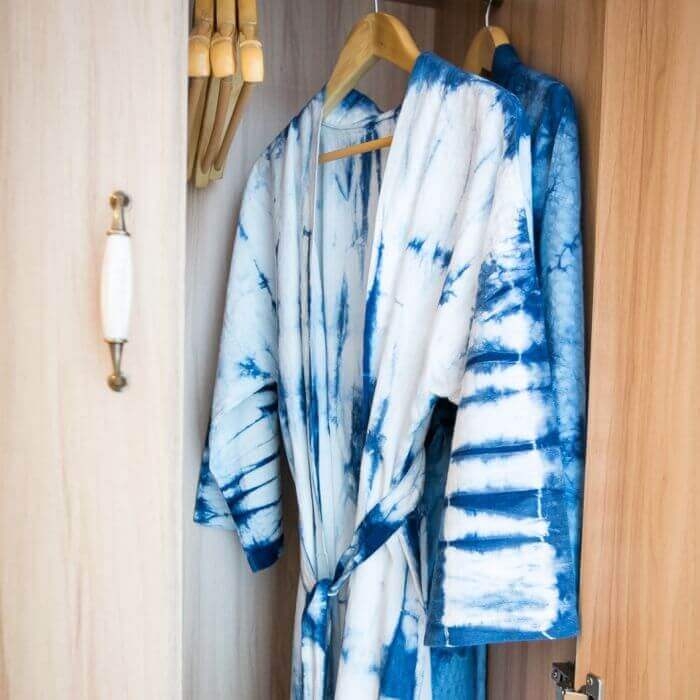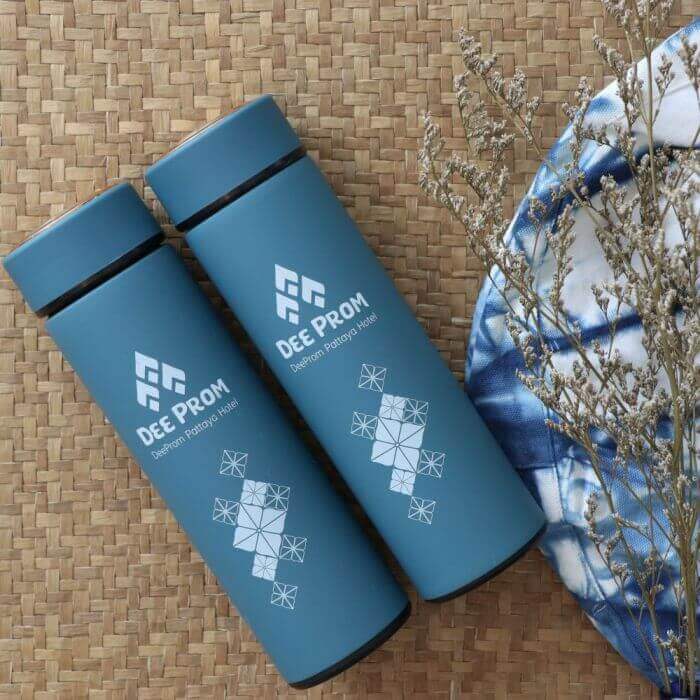 As part of our efforts to minimize the use of plastic bottles, the complimentary water provided in our rooms use only glass containers. We also provide an insulated bottle in your room, so feel free to refill hot or cold water at our water dispenser stations, to ensure you stay hydrated during your travels, and perhaps save a few baht along the way! If you fancy a cup of tea, please feel free to pick a tea bag from the selection of fine quality tea provided in your room, and use the insulated bottle to keep your tea warm.
5. The Tiny Silver Water Bowl
You just can't help but spot this cute tiny bowl resting on the flower trays in the bathrooms at DeeProm. These shiny silver bowls were popularly used in olden times as containers for storing chilled drinking water. However, at DeeProm, we find them to be perfectly suitable for use as a mouthwash cup as well. Instead of filling your hands with water to rinse your mouth after brushing your teeth, simply use the bowl to help save water – and you must admit that it is quite stylish too!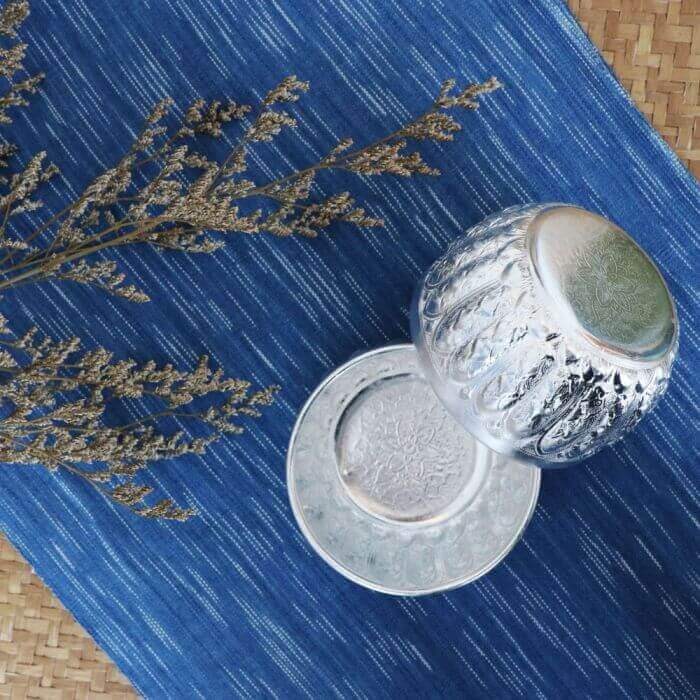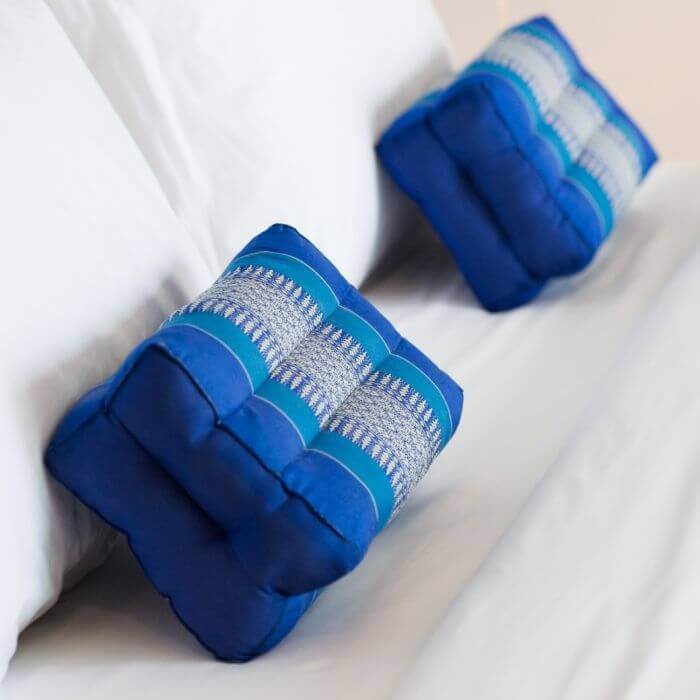 Have you noticed that little blue rectangular box-shaped pillow on the bed? That's the traditional Thai pillow, known as "Mon-Khit", which originates from the northeastern province of Yasothorn. Despite its small size, this local handicraft has been used for generations to relieve neck pain caused by work or long-distance travel. This is another item that is proudly presented by DeeProm to showcase the local wisdom of Thailand's northeastern region, and to support local Thai handicrafts.
The current query has no posts. Please make sure you have published items matching your query.